Western Care association, Erris and Áras Inis Gluaire /Belmullet Arts Centre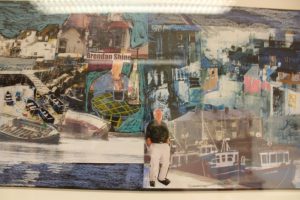 2011
"What I can do and what I have to say"
A series of twelve visual arts workshops culminating in an exhibition facilitated by artist Claire Griffin.
Using appropriate interactive exercises, four members of the Western Care association, Erris decided on and created visual work that reflected their voice and artistic potential. Each participant had a selection of materials to choose from including: Drawing, Painting, Collage, Textiles and Photography. Together the chosen pieces of their work formed a month long exhibition of painting and collage which opened in the main gallery at Áras Inis Gluaire on Friday, 2nd December. The opening was attended by an audience of 50 and was launched by Michael Ring, T.D.
Outcome
The staff of Áras Inis Gluaire was considering artworks for their offices and chose work from the exhibition in place of other artwork on offer.
"As with all enthusiastic artists working together each one influenced the other. Ideas were shared and one progression led to another – in the end the amount of detailed work produced in such a short time was astounding". (Claire Griffith, Artist)