Connaught Creative Resource centre, Castlebar and the Linenhall Arts Centre: Castlebar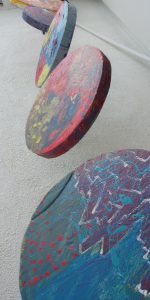 2012
'Let It Roll'.
A touring visual arts exhibition
A collaborative visual art project entitled "Let it Roll" facilitated by artists Jodi Coyne, Rachel McDonnell, Marian McHale, Breda Burns, with assistant Patricia Halligan.
The project comprised of a series of seven visual art workshops with six participants who are based at the Connaught Creative Resource Centre, and four students from the Department of Art and Design at GMIT, Castlebar Campus which lead to the creation of a wall based exhibition. The exhibition was on show in the Linenhall Arts Centre's foyer space until January 5th 2013, after which time it toured to Áras Inis Gluaire, Belmullet, and The Custom House Studios, Westport.
Outcome
"Ideas were generated by all the artists and everyone was given lots of opportunities to take part in all elements of the process. There was lots of healthy conflict of opinions which enabled the project to be truly owned by the artists". (Orla Henihan, arts access officer, Linenhall Arts Centre)